Wicked Winds Festival *ROUND TWO, Spring*
March 30 @ 10:00 am

-

April 2 @ 5:00 pm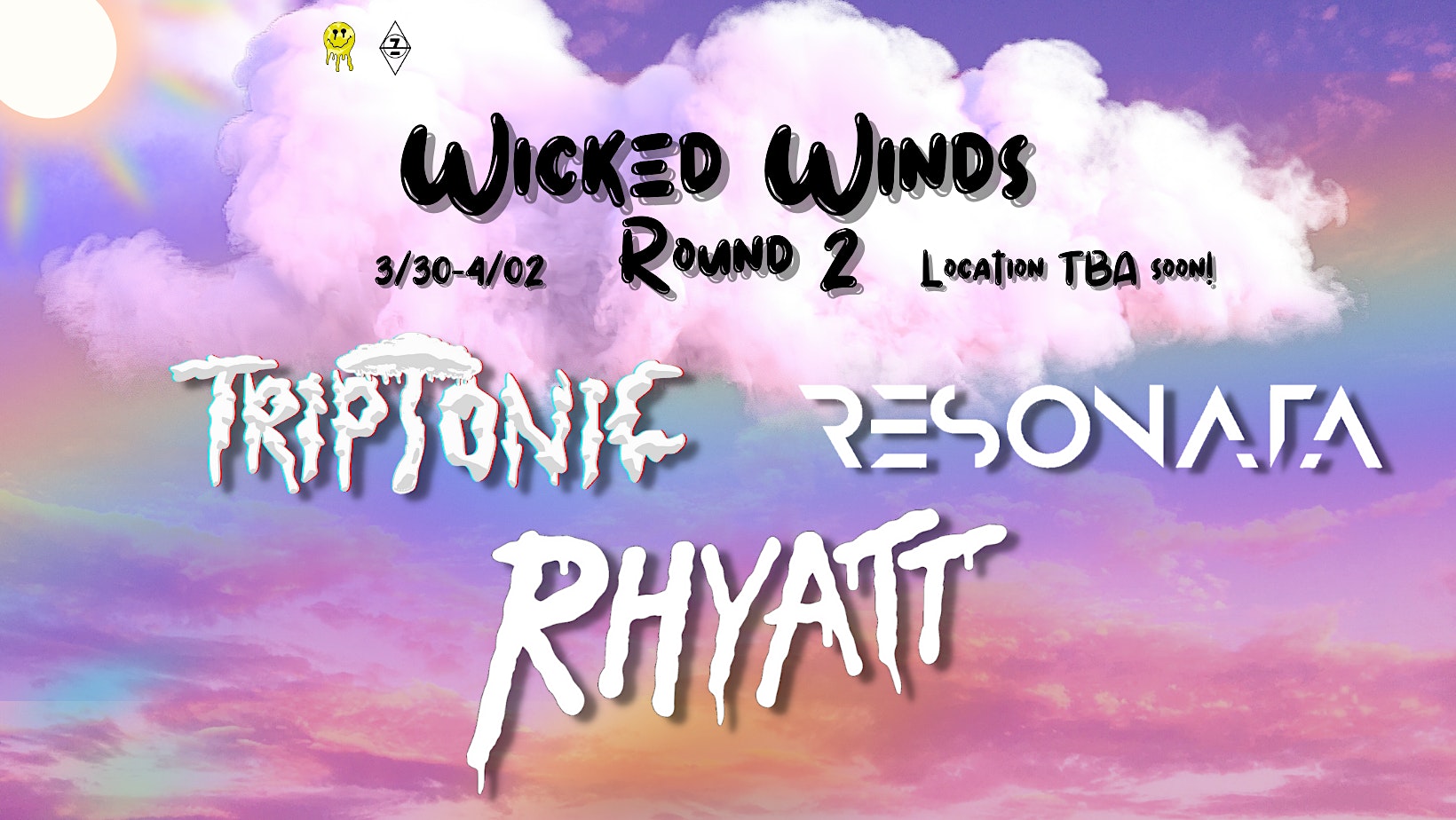 Wicked Winds Festival is back for round two!
We are coming in with double the production, double the deco & double the space!
Join us for Round Two of Wicked Winds Music Festival!
Full location details tba by January 31st.
Current location listed is approximate.
We are a multigenre festival, we host family friendly EDM events.
We love to bring people together with music & create a safe fun space to come camp out and enjoy the small camping music festival life.
Our goal has always been to host multi-genre events that include EDM genres, but also multiple other genres & acoustics.
If you're looking to vend art or your Homemade goodies, perform music or other forms of entertainment please email us at [email protected]
We are working to create a lasting memory and something for all patrons & staff to reminisce on being apart of.
Address:
Full address TBA
Morgantown, WV
18+ ONLY! 21+ TO DRINK!
Valid forms of ID for adults:
-Valid US Drivers license
-Valid Passport
Unaccepted IDs:
-Expired license or passport
-School IDs
-Birth Certificates
-Identification without photo
Gate times:
March 30th- 5pm-8pm *early arrival, staff & VIP only*
March 31st- 2pm-8pm
April 1st- 10am-9pm
April 2nd- PACKUP DAY NO ENTRY.
Re-entry $10
Parking $20, This can be prepaid on eventbrite!
NO ATM ON SITE. BRING CASH. RE-ENTRY IS PERMITTED DURING GATE HOURS.
UPON ARRIVAL:
-Please have your ticket, ID & parking money ready when you arrive & pull into the car search line.
Once you've received your wristband you will be guided to the camping area with your car, where you can pull in & camp next to/infront of your car!
*easy parking for those who will be leaving daily and returning is available on site. Ask the gate staff.*
Firewood will be sold by the staff near the front gate for $5 per bundle; CASH ONLY.
Must bring your own fire pit if you want to have a fire.
THIS IS A PACK IN PACK OUT FESTIVAL.
BRING TRASH BAGS AND TAKE YOUR TRASH OUT WITH YOU. LEAVE NO TRACE.
We did so great with this last time that we would like to implement it again
**In an attempt to keep the fest grounds clean and our festival green, we are asking everyone to dispose of their trash outside of the festival in proper trash disposals.
We recommend using small or medium sized trash bags so they're easy to carry & pack into your car when full at the end of the festival. **
PROHIBITED ITEMS & RULES
* NO ILLEGAL SUBSTANCES, DRUGS OR DRUG PARAPHERNALIA
* NO PETS (SEE BELOW FOR SERVICE ANIMAL POLICY)
* NO LASER POINTERS
* NO GLASS (ALL GLASS WILL BE CONFISCATED AT THE GATE – PEOPLE WALK BAREFOOT HERE! PUT YOUR BEVERAGES IN A PLASTIC CONTAINER BEFORE ARRIVAL)
* NO WEAPONS OF ANY KIND (INCLUDES GUNS, POCKET KNIVES, SHARP OBJECTS, PEPPER SPRAY, FIREWORKS, ETC.)
* NO FIREWOOD FROM OUTSIDE THE PREMISES (FIREWOOD IS AVAILABLE FOR PURCHASE FROM GATE STAFF)
* NO UN-APPROVED AMPLIFIED SOUND EQUIPMENT. "RENEGADE" DJ STAGES OR UN-APPROVED SOUND OR CAMPS WITH SOUND WILL HAVE THEIR EQUIPMENT CONFISCATED. NO EXCEPTIONS. (BRING DRUMS & ACOUSTIC INSTRUMENTS THOUGH TO PLAY AROUND THE NIGHTLY BONFIRE OR SPEND YOUR TIME ENJOYING THE MUSIC AT ONE OF OUR STAGES!)
* NO UNWANTED TOUCHING OR UNWANTED APPROACHING – HAVE RESPECT FOR OTHERS.
* NO BAD VIBES.
* NO GLITTER (THIS IS MOOP AND ANY THAT SPILLS, EVEN IF BIODEGRADABLE, IS HARMFUL TO THE LAND & IMPOSSIBLE TO CLEAN UP)
*** ALL PROHIBITED ITEMS WILL BE CONFISCATED WITHOUT RETURN ***
Items to bring:
-Ticket
-Cash
-ID
-Personal items
-Medications (keep them in proper labeled packages please)
-Rain Gear
-Portable chargers
-Waterproof bags or bins for food, clothing etc
-layered Day, dress warm at Night, bring rain gear.
-Socks! Socks! Socks! Keep your feet dry!
Change your socks OFTEN! (Multiple times a day!)
-Bring multiple pairs of shoes/Boots! Do not bring just one pair!
-Lots of blankets & comforters for your sleeping area!
-Cot to keep up off the ground & Air mattress
-Rugs to insulate your tent!
-Tent
-Tarps
-EZ Up pop up
-Pop up walls or Tarps
-Zip ties!
-Cooler with drinks, water & cold food
-Bin with storable foods
-Portable camp stove/grill
-utensils, plates, cups
-Lots of trash bags & used shopping bags.
Use these for wet clothes too!
Music will run from 10AM-2AM daily.
No renegades. Acoustic music allowed.
Quiet hours 4am-10am daily.
Weather:
We are looking to expect mild on & off rain during the festival. Please pack accordingly.
A weather plan is in place to ensure mud is not too thick, there are warm & dry areas available for patrons & the Stage area will be sheltered as well. Please bring rain gear, mud gear & cold weather gear, as the weather is often unpredictable and could change on-site!
Service animals:
Service animals will be allowed into the event, we ask you email [email protected] to pre-register your service animal.
*We will have a designated service animal relief area that is to be used at all times.*
*Service dogs must be accompanied by their handler at all times.
*Service dogs must remain vested for the duration of the festival.
*Service dogs must be well trained for this type of environment.
*Ear protection for the animal must be in place if your animal will be nearing the stages.