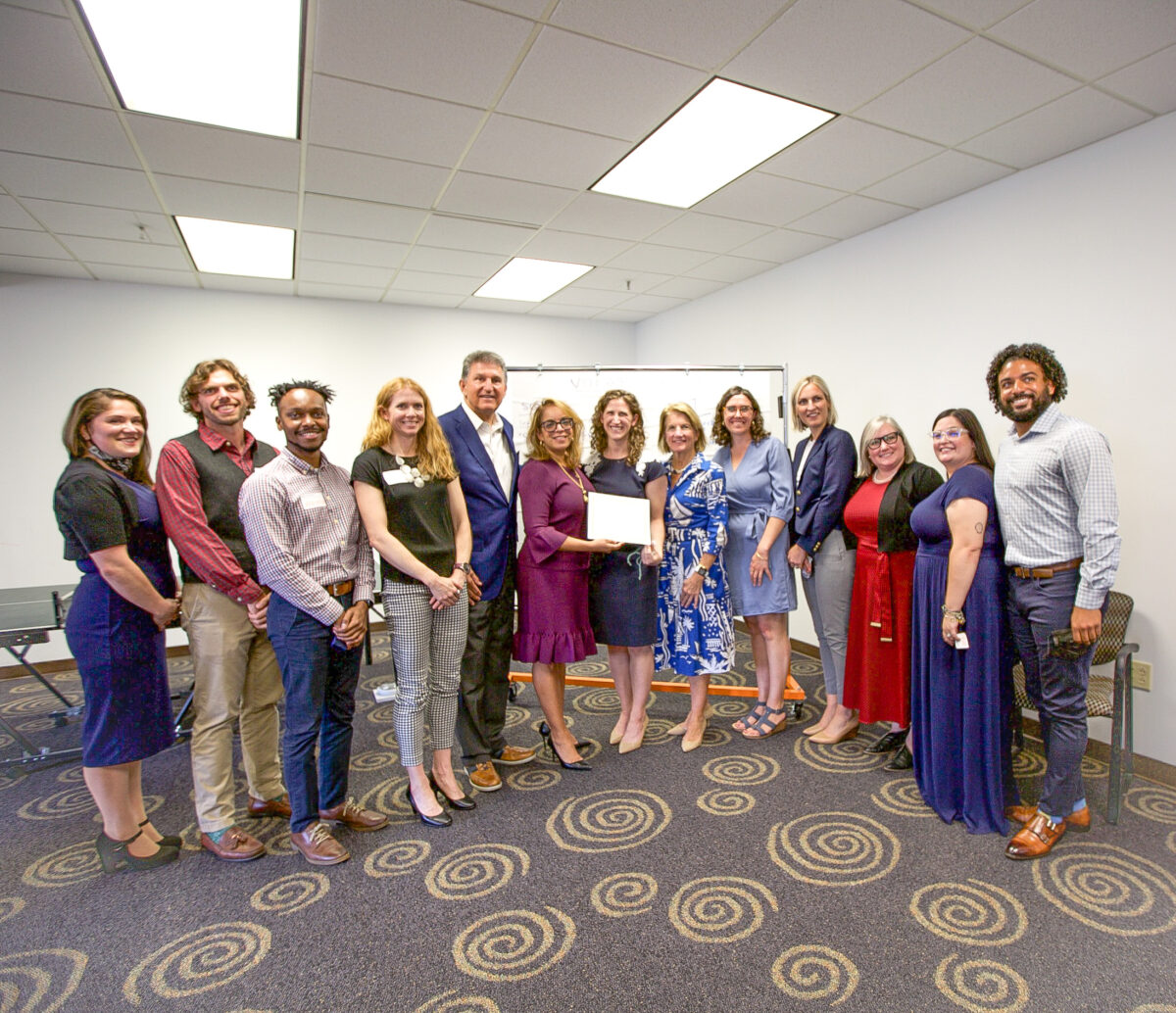 Sen. Joe Manchin and Sen. Shelley Moore Capito pose with GWV staff and NewForce students during a visit in 2021.
Generation West Virginia has been awarded $167,000 by the Department of Labor's Employment and Training Administration to expand its NewForce program. Sen. Joe Manchin made the announcement this week. The funding is made possible through a Congressionally Directed Spending request secured by Sen. Manchin and funded through the U.S. Department of Labor.
NewForce is a six-month, fully-remote, tuition-free software development training program for West Virginia residents. Through an immersive curriculum, NewForce students learn the latest skills in front-end and server-side development. They graduate with in-demand software development skills and are connected with innovative employers in West Virginia who are ready to hire. Generation West Virginia runs this program in partnership with Mountwest Community and Technical College and the West Virginia Community and Technical College System.
With hands-on training and a robust career preparation and placement approach, 86% of job-seeking NewForce graduates work in software development within six months, with a median starting salary of $45,000 in their entry level roles. 
"As the technology field continues to grow, NewForce is ensuring that West Virginians have the skills they need to access these careers," said Alex Weld, Generation West Virginia's executive director. "Our students come from a wide variety of backgrounds, most with no tech experience, but our team's dynamic approach is helping to prove that anyone can be a part of the tech industry. We are honored that Sen. Manchin recognizes the value of this program, and we look forward to continuing to build a stronger tech economy for West Virginia and its residents."
"Generation West Virginia's NewForce program provides vital opportunities to keep our young people employed in critical jobs right here in West Virginia. When I joined Alejandra Castillo, the U.S. Assistant Secretary of Commerce for Economic Development, in Huntington last year, we saw firsthand how NewForce is training West Virginians to work in the state's growing tech industry. That is why I proudly secured this funding to support their efforts, which will help replace computers and monitors, bolster outreach and recruiting initiatives, purchase office supplies and more," said Senator Manchin. "As a member of the Senate Appropriations Committee, I will continue advocating for resources, including earmarks, to ensure quality economic opportunity for every West Virginian across the Mountain State."
Congressionally Directed Spending funds, also known as "earmarks," allow nonprofits and other entities to apply for funding for local projects that benefit their communities.
About Generation West Virginia
Generation West Virginia is a statewide organization dedicated to attracting, retaining, and advancing young people in the Mountain State. The organization accomplishes this by connecting young people to jobs and opportunities in the Mountain State; providing accessible programs and educational tools that empower and inspire young leaders; developing and sustaining an activated, diverse network of young people; and identifying and communicating the priorities, motivations, and needs of the next generation of West Virginians. For more information, visit generationwv.org.