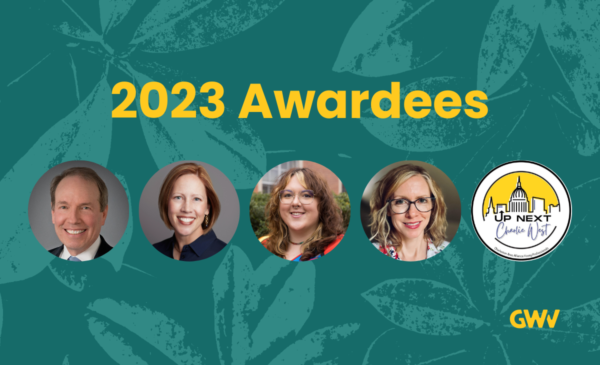 Charleston, WV — A brand-new signature event in the Capital City will celebrate both the end of summer and the beginning of young West Virginians' journeys.
Generation West Virginia's "Summer Night Soiree," presented by Southwestern Energy, will honor notable West Virginians who embody the organization's mission to attract, retain, and advance young people in the Mountain State as part of an evening filled with food, music and art.
Generation West Virginia is proud to recognize these outstanding awardees at the Summer Night Soiree:
Lee Farabaugh – Distinguished Leadership Award
Tom Heywood – Lifetime Achievement Award
Treasure Barberich-Wyckoff – Emerging Leader Award
Sydney Wait – Empowerment Award
Up Next Charlie West – Community Partnership Award
The event, which is open to the public and will be held on Aug. 26 at J.Q. Dickinson Salt-Works in Charleston, will also feature award-winning cuisine from 1010 Bridge and James Beard Award Finalist Paul Smith and live music from Minor Swing. Base Camp Printing Co. is also crafting an exclusive print for the event.
"The inaugural Summer Night Soiree represents a milestone for Generation West Virginia as we come together to honor exceptional individuals who are making a positive impact in our state," said Alex Weld, Executive Director at Generation West Virginia.
"We invite everyone who believes in the potential of our young people and the future of West Virginia to join us for this memorable evening."
Friends, supporters and partners of Generation West Virginia are invited to purchase tickets now to enjoy this end-of-summer event in the mountains. Proceeds from Summer Night Soirée will support Generation West Virginia in its efforts to empower the next generation in the Mountain State.
Ticket Details:
Date: August 26, 2023
Time: 6 p.m.
Venue: J.Q. Dickinson Salt-Works, 4797 Midland Dr, Charleston, WV 25306
Attire: Cocktail Attire
For more information and to purchase tickets, please visit generationwv.org/summer-night-soiree/ or contact n.oates@generationwv.org.
About Generation West Virginia
Generation West Virginia is the statewide organization dedicated to attracting, retaining, and advancing young people in the Mountain State. The organization accomplishes this by connecting young people to jobs and opportunities in the Mountain State; providing accessible programs and educational tools that empower and inspire young leaders; developing and sustaining an activated, diverse network of young people; and identifying and communicating the priorities, motivations, and needs of the next generation of West Virginians. For more information, visit generationwv.org.